Questo post è disponibile anche in: Inglese
Reading Time:
3
minutes
Molti utilizzano come laboratorio ambienti nestested, spesso basati su VMware Workstation/Player/Fusion dato che queste soluzioni di virtualizzazione sono perfettamente in grado di virtualizzare anche hypervisor di tipo 1 (baremetal) come ESXi, ma anche Hyper-V, Xen e KVM.
Se però avete già provato ad installare VMware ESXi 7.0 all'interno di una VM su VMware Workstation vi sarete accorti che non è possibile (lo stesso problema c'è con Fusion e Player).
L'installer di ESXi 7.0 parte correttamente, ma si ferma subito a questo punto: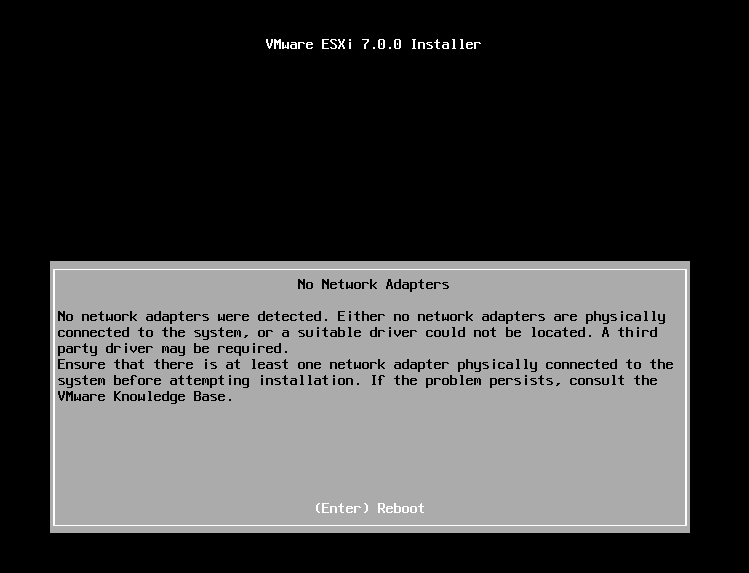 Purtroppo se l'installer di ESXi non trova una scheda di rete supportata blocca l'installazione perché consider questa situazione bloccante!
Ma perché l'installazione funziona correttamente per gli ESXi precedenti?
Semplice: Workstation/Player/Fusion utilizzano di default una scheda di rete virtuale che è l'emulazione della vecchia Intel E1000… e a partire da ESXi 7.0 questa scheda non è più supportata.
Probabilmente questo problema sarà risolto da versioni successive di Workstation, ma ad oggi l'ultima versione disponibile è la 15.5.2 che di fatto non ha ESXi 7.0 nell'elenco dei sistemi supporati… ma si ferma genericamente ad un ESXi 6.x.
La soluzione al problema, per fortuna, è molto semplice e richiede solo di cambiare il tipo di scheda di rete (cosa possibile da diverse versioni di Workstation, ma mai abilitata dall'interfaccia grafica).
Basta spegnere la VM, trovare nel vostro filesystem il relativo file vmx (che contiene la configurazione della VM) e modificare questa riga:
ethernet0.virtualDev = "e1000"
Poichè ESXi supporta anche la scheda vmxnet3, la scelta migliore è utilizzare questo tipo di vNIC:
ethernet0.virtualDev = "vmxnet3"
That's it… just power-on the VM and install ESXi 7.0… and enjoy!
A questo punto l'installazione partirà senza problemi.
Ma esiste anche una soluzione più semplice e veloce ed è quella di usare i virtual appliance di ESXi già preconfezionati e disponibili dal sito Virtual Ghetto (http://vmwa.re/nestedesxi).
Da diversi giorni è già disponibile ESXi 7.0 Virtual Appliance pronto all'uso!
Si tratta di un file OVA che può essere facilmente importato in un ambiente VMware Workstation / Player / Fusion (ma volendo anche un laboratorio basato direttamente su ESXi).
Dopo aver accettato l'EULA è possibile scegliere il percorso desiderato nel proprio filesystem: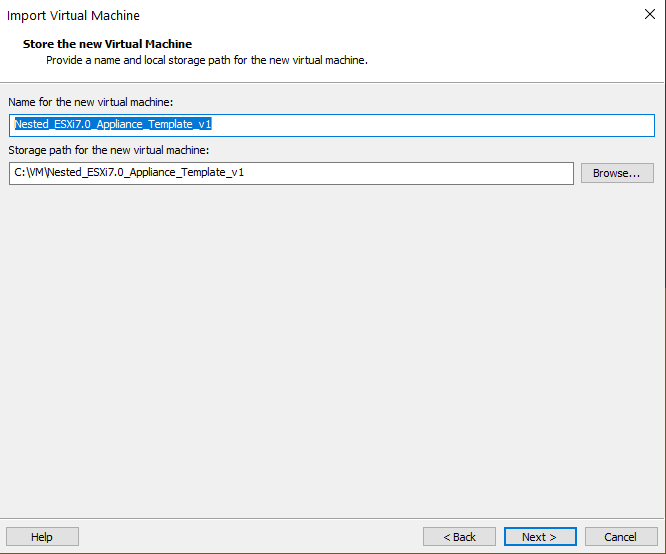 A questo punto è possibile personalizzare ESXi inserendo i parametri desiderati. Notare che tutti i cambi hanno dei valori di default (ad esempio la password di default è VMware1! oppure la rete di default è in modalità DHCP, perfetta per la modalità NAT o host-only di Worksation):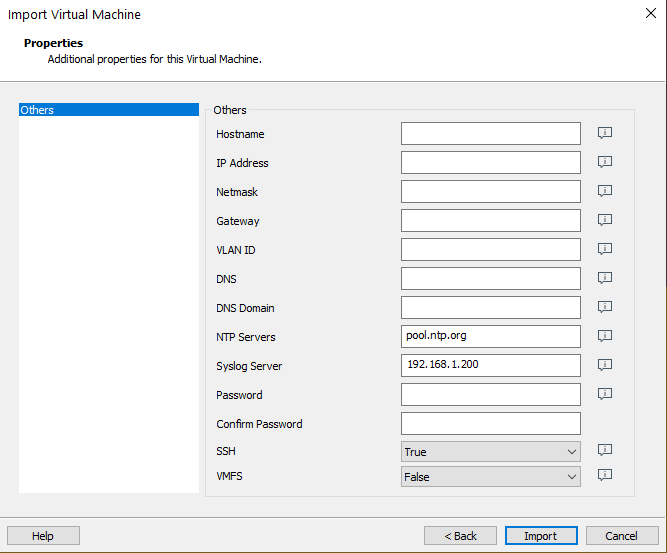 In pochi click e pochi minuti avrete un ESXi 7.0 pronto all'uso!