Questo post è disponibile anche in: Inglese
Reading Time:
2
minutes
Il terzo giorno è stato in realtà il primo vero giorno dell'evento, visto che erano previsti due percorsi diversi: il primo per i partner (di 4 giorni a partire da lunedì) ed un secondo per i clienti (di soli due giorni a partire da mercoledì).
Il programma della giornata è iniziato presto con la prima sessione plenaria (8:00-9:00) con Darren Thomas (VP & GM of Dell Storage) e Phil Soran (President of Dell Compellent) che hanno intodotto la filosofia "Fluid by Design" dei prodotti e soluzioni di storage di Dell.
Al di là di termini coniati da marketing e analisti, la proprietà dei fluidi può essere riportata alle caratteristiche degli storage Dell: come un fluido mantiene sempre la linea dell'orizzonte anche muovendo (lentamente) il recipienti e soprattutto come si adatta a nuove forme se il recipiente viene schiacciato, così uno storage Dell (anche se non è proprio vero per tutta la famiglia di storage) può adattarsi alle esigenze del cliente e mantenere un livello di servizio costante.
Il resto della giornata si è svolto con diverse sessioni parallele (decisamente in numero maggiore rispetto ai giorni scorsi) delle quali ho seguito prevalementemente il percorso Equallogic (molto interessanti quelli sul design) con qualche variazione, come la sessione (protetta da NDA) sul Fluid File System (di fatto il porting di Exanet per avere un gateway NAS gateway per ogni prodotto di storage a blocchi di Dell).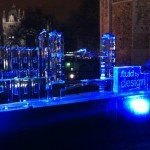 L'evento serale si è poi svolto in una location eccezionale e suggestiva (la Tower of London) ed ha concluso degnamente una giornata intensa. Una curiosità della serata è legato all'uso di varie sculture di ghiaccio con vari richiami a Dell (vi erano persino dei piccoli cubetti di ghiaccio con la forma del logo Dell), di cui la più scenografica era sicuramente quella posta all'ingresso (vedere la relativa foto).