Questo post è disponibile anche in: Inglese
Reading Time:
4
minutes
Come già scritto qualche settimana fa, la certificazione VMware Certified Associate rappresenta un nuovo livello (quello entry level) delle certificazioni VMware. E' molto simile come concetto ai livelli associated di molti altri vendor e non richiede corsi obbligatori (ma sono comunque fornite varie risorse on-line per la preparazione).
Il fatto è che non è neppure obbligatorio (almeno per ora) per gli altri livelli, quindi forse è più indicato a chi cerca una certificazione, ma non ha in programma di conseguire successivamente un VCP.
Le finalità dichiarate di questo livello sono:
"Earning VMware Certified Associate (VCA) certification demonstrates your foundational understanding of virtualization technology."
"You'll be more confident when interacting with your customers, colleagues, and management and be better positioned to take advantage of career opportunities in an evolving IT industry."
Vi sono alcuni dubbi sulla necessità e finalità di queste certificazioni, soprattutto per figure tecniche. Vero è che una figura di tipo junion o un operatore potrebbero anche non conseguire mai una certificazione VCP, e quindi questa potrebbe essere più appropriata. Non credo invece nell'utilità per figure commerciali o di tipo technical pre-sale visto che esistono già le certificazioni VSP e VTSP (disponibili nell'area VMware partner).
Tra i benefici di questo tipo di certificazioni vi sono il logo, il transcript e ovviamente il riconoscimento di aver passato la certificazione. Pare anche se sia previsto l'invito ad esami e corsi beta.
Al momento le certificazioni VCA già disponibili sono:
E a breve dovrebbe anche aggiungersi la VCA su Network Virtualization (VCA-NV). Esiste anche un'area nella Community VMware per discutere di queste certificazioni.
Ho provato a fare tutti e tre gli esami e li ho passati facilmente (in circa 1 ora, in totale), senza alcuna preparazione particoilare. Personalmente li ho trovati non banali, ma più semplici di quello che era stato il vecchio esame VCA4-DT (che era decisamente più tosto).
L'aspetto for più interessante è che, una volta richiesto l'esame (sul sito di VMware), e atteso il tempo necessario (di solito 15 minuti), si è autorizzati sul sito VUE e si può subito registrarsi per l'esame e sostenerlo on-line. Sì: la novità è che si tratta di un esame totalmente on-line, quindi senza orari prefissati, senza dover cercare posti liberi e soprattutto senza doversi muovere!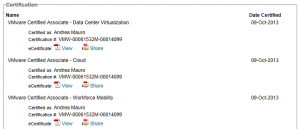 Come avevo ipotizzato l'esame relativo alla nuova classificazione Workforce Mobility copre l'intera Horizon Suite, invece che solo View e ThinApp.
Da mio punto di vista l'idea di queste certificazioni è buona, ma l'applicazione ed implementazione è ancora migliorabile. Prima di tutto vi sono troppe domande da commerciale (e non serve visto che esistono giù le certificazioni relative). Più domande tecniche possono alzare il valore dell'esame.
Ma anche ridurne il tempo totale (troppo per appena 50 domande), visto che poi il browser non è in modalità modale e quindi per chi vuole imbrogliare c'è fin troppo tempo e modo.
C'è poi il problema del costo, a mio parere troppo alto per un esame entry level. Vero è che fino alla fine dell'anno è scontato del 50%. Inoltre fino al 30 ottobre, vi è pure un codice promozionale che lo rende gratuito, ma in realtà questo codice sarebbe solo per persone che hanno seguito corsi VMware.
Se non si trova il modo di ridurre il costo, una soluzione sensata potrebbe essere includere un voucher grauito in ogni prodotto VMware, o almeno in alcuni bundle (anni fa si era fatto qualcusa si simile con gli Acceleration Kit che includevano crediti PSO).
For other exam experiences see also: