Questo post è disponibile anche in: Inglese
Fin dai primi giorni del programma VCDX, l'elenco delle persone che avevano raggiunto questo importante traguardo era disponibile su una pagina ufficiale chiamata: VCDX directory page. Era l'unica fonte ufficiale ed autoritativa, utile per verificare questa certificazione.
Ma quando il numero dei VCDX ha iniziato a crescere molto rapidamente (passando dal centinaio alle 200 persone in pochi mesi), questa pagina ha iniziato a diventare meno usabile e pure meno gestibile da parte di VMware..
Per risolvere questo problema e garantire informazioni aggiornante, venerdì scorso, Chris e Karl hanno annunciato la nuova VCDX Directory ufficiale, non solo migliore esteticamente, ma anche con nuove funzionalità. La nuova pagina è disponibile all'indirizzo: vcdx.vmware.com.
Come bene visibile, la nuova pagina fornisce già i nomi aggiornati dei percorsi delle certificazioni VMware: Data Center Virtualization, Cloud Management & Automation, Desktop and Mobility, Network Virtualization.

Come scritto in precedenza, la nuova directory include anche nuove funzionalità quali:
numero identificativo VCDX (questo numero è l'unico che non è stato cambiato con i nuovi VMware ID ed è ancora progressivo e ovviamente univoco)

tag aggiuntivi (mentor, panelist, …)

100% Self Service (

ogni candidato ha accesso alle sue informazioni)

Ricerca, ordinanamento e filtraggio

Allow customers and candidates to find experts from around the world for projects they may have

Filter by Location and/or VCDX Type and/or Languages Spoken

Sort results by First/Last name or VCDX number

Highlighting VCDX type with the a

bility to flag multiple VCDX holders
L'idea del self service è buona, ma a patto che poi tutti si tenga aggiornata la propria scheda (cosa che al momento non è ancora così). La funzione di ricerca è decisamente la migliore dato che permette anche di cercare in base alla lingua o alla nazione. Ad esempio, cercando i VCDX che vivono in Italy si ottiene questa lista (in realtà questi sono solo i primi due):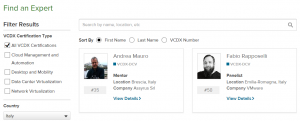 Vedere anche (in inglese):
This post has already been read 133 times.