This post is also available in: Inglese
Reading Time:
2
minutes
Come promesso e pre-annunciato da tempo (si aspettava attorno alla fine di aprile), Veeam ha rilasciato l'update 2 della Veeam Availability Suite, rendendo la suite compatibile con VMware vSphere 6.0 e Veeam Enpoint Backup. La patch è già disponibile sul sito Veeam nell'are download.
Naturalmente vi sono molte novità legate a vSphere 6.0 che ora è pienamente supportato:
Supporto per i VMware Virtual Volumes (VVols)
Quick Migration verso VVols
Storage Policy-Based Management (SPBM) policy backup and restore
Backup and replication of Fault Tolerant (FT) VMs
vSphere 6 tags integration
Cross-vCenter vMotion awareness
Hot-Add transport mode of SATA virtual disks
Supporto per Virtual SAN 6.0
Il supporto a Veeam Endpoint Backup di fatto permette a Veeam Backup & Replication di essere usato come repository centralizzato per i backup, come già descritto in questo post (basato però sulle beta di entrambi i prodotti). Ora tutte le funzionalità sono state implementate, incluso il restore verso VMDK o VHD/VHDX (molto interessante, ma che non costituisce una soluzione completa di P2V, almeno non per ora).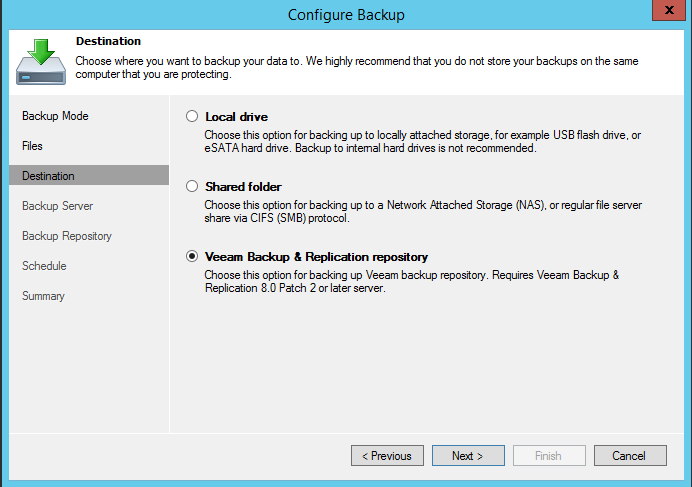 Non potevano mancare novità anche sulla parte di Veeam ONE che ovviamente è in grado di monitorare anche le nuove funzionalità di vSphere 6, come ad esempio i VVols.
Ma vi sono poi anche tanti altri miglioramenti che rendono questa patch molto importante e utile. Si raccomanda di leggere le releases notes perché contengono un elenco di tutte le migliorie, ma soprattutto importanti informazioni su come procedere con l'aggiornamento.
Per maggiori informazioni vedere: