Questo post è disponibile anche in: Inglese
Sono calate le luci dell'edizione americana del VMworld 2016 ed è finalmente possibile trarne le conclusioni finali. A parte l'ovvio annuncio della prossima edizione (dal 27 al 31 agosto 2017 sempre al Mandalay Bay Hotel & Convention Center) quali sono state le più importanti novità dell'evento?
A differenza dello scorso anno, questa volta non ho partecipato all'evento in prima persona (sarò presente solo all'edizione europea) e quindi i commenti seguenti sono esclusivamente il frutto di quanto ho visto e sentito indirettamente.
Sicuramente è ancora un evento che "tira" visto che gli organizzatori dichiarano ben 23.000 partecipanti. Ma forse il focus è cambiato.
La prima novità (che in realtà era novità all'ultimo VMworld europeo) riguardava la vicenda Dell-EMC e anche in questo caso era presente (questa volta fisicamente) Michael Dell a ribadire e commentare che nulla cambierà per VMware (almeno non nella forma di quanto successo a Dell-EMC). Ma ovviamente qualcosa già sta cambiando… a parte sparire il nome e logo EMC, il primo grande cambiamento è stato l'insediamento di Michael Dell alla presidenza del VMware board of directors, prendendo il posto di Joseph M. Tucci (che aveva dal 2007).
La seconda novità è il grande assente di questo evento (ma in realtà anche della scorsa edizione)nessun nuovo annuncio riguardava VMware vSphere! E qualche novità nella prossima versione ci sarebbe anche, ma a quanto pare bisognerà aspettare per l'annuncio di vSphere 6.5 (magari al VMworld EU?).
La virtualizzazione (dei server) non è più l'argomento principale, relegato a puro elemento infrastrutturale a supporto di tutto il resto. Del resto nell'ultimo anno si è vista una forte rifocalizzazione di VMware su altre tecnologie come, ad esempio, Virtual SAN e NSX (che hanno avuto ampio spazio a quest'evento).
Un altro cambio di rotta è relativo alla vision di VMware riguardo al cloud: l'anno scorso si parlava di un unico cloud per tutto (basato su tecnologie VMware vCloud). Oggi si parla di un approccio multi-cloud. Citando Pat Gelsinger: "a new era of cloud freedom and control is here."
La nuova strategia per il cloud ibrido prevede una nuova VMware Cross-Cloud Architecture che permette ai clienti di eseguire, gestire, connettere e proteggere le applicazioni su cloud e sui dispositivi in un ambiente operativo comune. A supporto della propria strategia per il cloud, VMware ha annunciato anche:
VMware Cloud Foundation, una piattaforma Software-Defined Data Center (SDDC) unificata che semplifica la gestione e l'utilizzo dei cloud SDDC da parte dei clienti
L'anteprima di servizi cross-cloud che permetteranno ai clienti di gestire, utilizzare e proteggere le applicazioni sui cloud pubblici e privati, tra cui AWS, Azure e IBM Cloud
VMware vCloud Availability, una nuova famiglia di prodotti per il disaster recovery appositamente realizzati per i partner vCloud Air Network
Una nuova versione di VMware vCloud Air Hybrid Cloud Manager che azzera i tempi di inattività per gli utenti di VMware vSphere che migrano le applicazioni su VMware vCloud Air
In particolare i Cross Cloud Services potranno gestire diversi mega-cloud tramite un'unica interfaccia, ma non si limiteranno solo alla gestione, bensì avranno la capacità di spostare workload attraverso cloud diversi, riportato correttamente le relative configurazione di rete e security.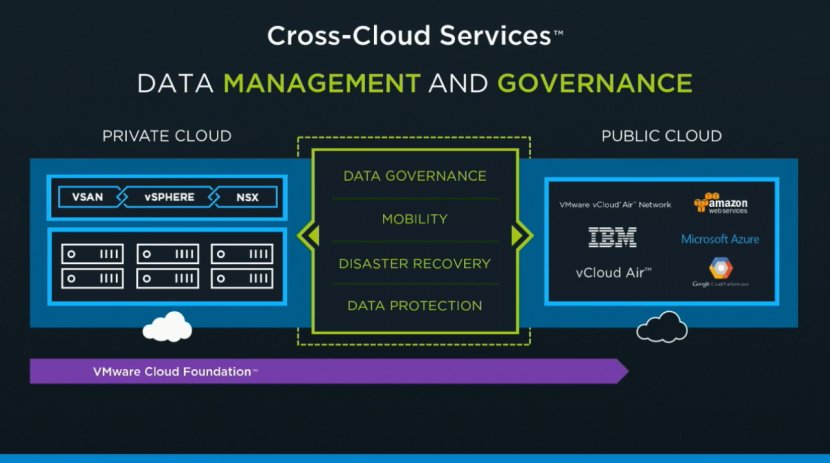 Per maggiori informazioni vedere quest infographic.
Diretta conseguenza di questo approccio multi-cloud, VMware e IBM hanno annunciato la disponibilità di servizi cloud che consentono alle organizzazioni di spostare rapidamente e facilmente carichi di lavoro nel cloud. Con più di 500 clienti condivisi, tra cui Marriott International, la partnership tra IBM e VMware sta aiutando molte aziende a estendere workload esistenti nel cloud in poche ore.
Ma VMware ha anche presentato VMware Integrated OpenStack 3, l'ultima versione della distribuzione di OpenStack che introduce nuove funzionalità per rendere l'implementazione dei cloud OpenStack più semplice e conveniente e, parallelamente, consentire ai clienti di utilizzare i carichi di lavoro VMware vSphere esistenti in un cloud OpenStack basato su API.
E' cambiata anche la vision relativa all'End User Computing (EUC): non solo virtualizzazione dei desktop, ma gestione completa ed integratadegli endpoint con un approccio nuovo e unificato di gestione degli endpoint per Windows 10, insieme a miglioramenti di VMware Horizon e VMware Workspace ONE. Queste novità consentono di migliorare il digital workspace e rispondere alla sfida di supportare una forza lavoro sempre più mobile che richiede l'accesso a tutte le applicazioni da qualsiasi dispositivo, sempre e ovunque.
Si è invece rafforzata la vision sulle Cloud Native Application sempre presente e forse più che mai il nuovo che avanza in VMware. VMware ha annunciato due nuove funzionalità di VMware vSphere Integrated Containers che permettono ai responsabili IT di fornire un'interfaccia Docker compatibile ai team che si occupano di applicazioni, da utilizzare sull'infrastruttura vSphere esistente. La nuova container registry and management console fornisce VMware vSphere Integrated Containers per supportare i team IT nell'utilizzare i container in produzione in modo efficace. VMware vSphere Integrated Containers è ora disponibile come software open source ed è aperta la registrazione a un programma beta.
Vedere anche (in inglese):
This post has already been read 206 times.