Questo post è disponibile anche in: Inglese
Come scritto in un post precedente, alcuni mesi fa, ho iniziato un progetto (che da lungo tempo stentava a partire) di realizzazione di un libro su VMware vSphere. Il lavoro è stato completato e finalmente è disponibile al pubblico.
Il libro Mastering VMware vSphere 6.5 è in vendita da una settimana sul sito Packt e anche su Amazon (benché in alcuni siti localizzati la descrizione del libro sia totalmente errata).
Dato che il progetto aveva tempi troppo stetti ho chiesto aiuto a due amici (Paolo Valsecchi, del blog http://nolabnoparty.com/, e Karel Novak, VCI e contributore della documentazione di VMware), entrambi conosciuti grazie al programma Veeam Vanguard.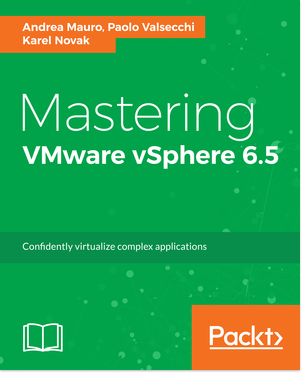 Il sito del libro è: https://www.packtpub.com/virtualization-and-cloud/mastering-vmware-vsphere-65
NB: Al momento (da lunedì) è anche in offerta scontato a poco più di 5€ (ma solo nella versione elettronica).
Benché il titolo del libro fosse imposto dall'editore, ho comunque accettato il progetto, se non altro perché al momento non vi era ancora un libro del genere su vSphere 6.5 update 1. Speriamo che il risultato sia comunque soddisfacente ed è stato comunque un gran risultato essere riusciti a pubblicarlo prima che uscisse una update 2 (o peggio ancora la prossima versione 6.7).
Quanto meno il contenuto è allineato con le versioni attualmente esistenti. Discorso leggermete diverso per altri prodotti citati nel libro che sono stati aggiornati (ma in modo minimale) successivamente alla pubblicazione del libro.
Personalmente ci sono alcune parti che non mi sono come avrei desiderato, ma visti i tempi stretti, ritengo il risultato dignitoso.
La versione stampata è un libro di quasi 600 pagine:
ISBN 13

9781787286016

Paperback

598 pages
Come già detto è disponibile anche su Amazon (pure amazon.it), ma non a prezzo scontato e al momento solo in formato elettronico. A seconda dei casi potrebbe convenire comprarlo sul sito Packt (che dovrebbe essere il più conveniente) o su Amazon o su altri siti.
NB: su Amazon qualcuno sta vendendo delle copie usate del libro stampato (in alcuni casi persino ad un prezzo più alto del nuovo. Non compratele, se non altro perché non è detto che il venditore sia affidabile (nonostante abbia tanti voti positivi, ma sospetti). In ogni caso verificate bene l'acquirente, se non volete comprare il libro dai canali ufficiali.

Perchè un libro come questo?
Il progetto di un libro era nei miei cassetti da tanto tempo (da quando ho iniziato questo blog), ma via via sono sempre cambiati i possibili co-autori e il progetto è stato ogni volta rimandato.
Essere di fronte ad un'opportunità di scrivere un libro, direttamente da parte di una casa editrice, è stato sicuramente un buon incentivo, rispetto all'idea di auto-pubblicare. Se non altro per risparmiarsi alcune complicazioni tecniche come l'impaginazione (per però, con nostra sorpresa, nella versione finale non è venuta proprio benissimo visto che ci sono vari spazi vuoti nelle pagine).
E' stata sicuramente una sfida, anche perché se penso ai mastering su vSphere, associo subito i primi libri di Scott Lowe che erano veramente di valore sia come contenuti che come stile di scrittura.
Poiché è stato il primo progetto di questa portata sono molto interessato ad avere dei pareri sul risultato finale e, durante queste vacanze preparerò un modulo di feedback, ma anche commenti a questo post o recensioni su Amazon o Packt possono andare bene.
Il libro ovviamente è solo in inglese, agli editori internazionali sembra proprio che la lingua italiana non interessi e ritengano il mercato troppo piccolo.
Perché la copertina verde?
L'impaginazione e le scelte editoriali sono sono state negoziabili da noi. Quindi la verità è che la copertina è il risultato della scelta di Packt… Forse potevano fare di meglio… Ma in fondo conta il contenuto, non l'aspetto esterno.
Però è simpatica questa interpretazione scherzosa di Karel:
Often question: Why is cover book green? Because: This is @VeeamVanguard 's! -))) Author team #masteringvsphere65 pic.twitter.com/UZskhrV3Ef

— Karel Novak (@novakkkarel) 21 dicembre 2017
Descrizione del libro
VMware vSphere 6.5 provides a powerful, flexible and secure foundation for next-generation applications which helps you create an effective digital transformation. This book will be based on VMware vSphere 6.5 which empowers you to virtualize any complex application with ease.
You'll begin by getting an overview of all the products, solutions and features of the vSphere 6.5 suite, comparing the evolutions with the previous releases. Next ,you'll design and plan a virtualization infrastructure to drive planning and performance analysis. Following this , you will be proceeding with workflow and installation of components. New network trends are also covered which will help you in optimally designing the vSphere environment. You will also learn the practices and procedures involved in configuring and managing virtual machines in a vSphere infrastructure. With vSphere 6.5, you'll make use of significantly more powerful capabilities for patching, upgrading, and managing the configuration of the virtual environment. Next we'll focus on specific availability and resiliency solutions in vSphere.
Towards the end of the book you will get information on how to save your configuration, data and workload from your virtual infrastructure. By the end of the book you'll learn about VMware vSphere 6.5 right from design to deployment and management.
Cosa imparerete?
Get a deep understanding of vSphere 6.5 functionalities
Design and plan a virtualization environment based on vSphere 6.5
Manage and administer a vSphere 6.5 environment and resources
Get tips for the VCP6-DCV and VCIX6-DCV exams (along with use of the vSphere 6 documentation)
Implement different migration techniques to move your workload across different environments.
Save your configuration, data and workload from your virtual infrastructure.
A chi è destinato?
Come specificato nella prefazione, questo libro richiede comunque un minimo di conoscenze di VMware vSphere e possibilmente anche un minimo di esperienza pratica con un ambiente vSphere anche in versione 4.x o 5.x… questo perché il livello del libro è stato tarato su un livello intermedio tipico dei libri Mastering e si è puntato di più sul descrivere le novità della versione 6.5, piuttosto che (ri-)descrivere ogni singola funzionalità, laddove non avesse significative novità.
This post has already been read 891 times.