Questo post è disponibile anche in: Inglese
Reading Time:
3
minutes
L'edizione 2020 del Red Hat Summit era prevista a San Francisco presso il Moscone Center dal 27 al 29 Aprile. Ma ovviamente l'evento è stato colpito degli effetti della pandemia del COVID-19.
Ora diventa un Red Hat Summit 2020 Virtual Experience con il vantaggio di essere un evento live, pensato per i diversi fusi orari e completamente grauito, che offrirà gli stessi contenuti stimolanti che ci si aspetta da noi: note, sessioni di breakout, accesso agli esperti di Red Hat e altro ancora. Dal 28 al29 Aprile 2020.
Ormai alla sua edizione numero sedici, il Red Hat Summit si è fatto conoscere come il più importante appuntamento dedicato alle tecnologie open source, in grado di riunire migliaia di professionisti IT per un evento incentrato sull'innovazione, la formazione e la collaborazione.
Si tratta del secondo summit dopo l'acquisizione di RedHat da parte di IBM nel tardo 2018 e promette di essere il più grande evento di RedHat.
L'agenda è decisamente ricca e comprende oltre 100 tra sessioni di breakout e demo, a coprire molti tra I temi più caldi del mondo enterprise tech: Le sessioni saranno presentate da esperti di Red Hat, clienti, partner e collaboratori della comunità, offrendo ai partecipanti l'opportunità di immergersi nelle ultime innovazioni di prodotto e di ascoltare le migliori pratiche di settori differenti. Le sessioni sono appositamente progettate per un pubblico virtuale e personalizzate in base ai diversi ruoli e livelli di competenza e copriranno un'ampia gamma di argomenti, tra cui: edge; container Linux; automazione IT; infrastruttura hybrid cloud; sicurezza; sviluppo di applicazioni; diversità e cultura; e altro ancora. Gli oratori risponderanno alle domande dei partecipanti tramite chat room durante e dopo le sessioni.
L'agenda completa è disponibile a questo link.
Per chi non è in grado di partecipare o semplicemente desidera ascoltare qualcosa una volta ancora, registreremo gran parte dei contenuti, compresi tutti i keynote, che resteranno disponibili per un anno, Quindi non c'è rischio di perdersi nulla!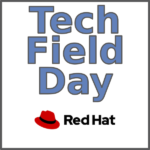 E quest'anno vi sarà anche una novità: un evento dentro l'evento. Il 29 Aprile si svolgerà il Tech Field Day Virtual with Red Hat incentrato su OpenShift.
Streaming video will be shown here between 10 AM and 4 PM US/Eastern time (GMT-5) on April 29. Recordings of all of these sessions will be posted to the YouTube page shortly after the event concludes.