Questo post è disponibile anche in: Inglese
Reading Time:
4
minutes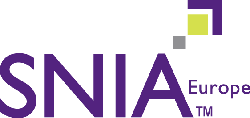 Nel mio incontro con SNIA Europe, in occasione del recente evento Powering The Cloud, ho avuto il piacere di parlare con Bob Plumridge, SNIA Europe Chairman of the Board e Mark Jones, formalmente Director Technical Marketing di Emulex, ma presente a questo incontro per il suo ruolo di Vice Chairman of FCIA (Fibre Channel Industry Association).
Lo SNIA (Storage Networking Industry Association) è l'autorità internazionale preposta a rendere disponibili standard industriali nell'ambito dei prodotti storage, siano essi elementi hardware, software o di infrastrutture.
Ad esempio, lo standard SMI-S (Storage Management Initiative Specifications), descritto parlando di System Center e della sua integrazione con gli storage, è stato sancito dallo SNIA alla fine del 2003.
Durante l'incontro abbiamo parlato di quelli che sono gli hot topic del momento (Hybrid Cloud e Big Data), i trend del mercato (come i sistemi "convergenti") e del ruolo della comunità the SNIA (composta anche da molti end user). Ma per maggiori informazioni sulle attività di SNIA rimando a questo video.
Ma per lo più abbiamo parlato della FCIA (Fibre Channel Industry Association) e del ruolo del Fibre Channel nel mondo dello storage di oggi e di domani.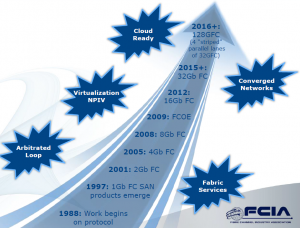 La storia stessa di questo protocollo è legata all'evoluzione degli storage enterprise: partito dalla versione FC a 1 Gbps ora è arrivato alla versione a 16 Gbps (Gen5) e lo standard successivo (FC a 32Gbps) è previsto per fine anno in modo da diventare disponibile per il 2015 (con la Gen6). Garantendo la compatibilità all'indietro con le 2 generazioni precedenti!
Sarà anche vero che lo standard Ethernet (o meglio lo standard 802.3) ha un ritmo di crescita diverso (e più di tipo esponenziale) ma su periodi temporali più lunghi tra un rilascio ed un altro. Mentre lo standard FC ha ritmi lineari, ma ogni 3-4 anni. Chi quindi prevede un rapido sorpasso di uno a scapito dell'altro forse guarda troppo in aventi nel tempo (rimangono invece valide tante altre ragioni a favore dell'Ethernet o a favore del FC).
Tra l'altro nel 2013 si è raggiunto un importante traguardo del FC: 11 Million ports shipped (Worldwide Storage Area Network Market – Fibre Channel Forecast, January 2012) ed un interesse sempre alto per questa tecnologia (che comunque in molti settori rimane ancora quella leader).
Ma forse le novità più interessanti non saranno tanto nella prevedibile crescita della banda, ma più nelle nuove funzionalità che saranno disponibili: in particolare una funzione di "port aggregation" e una nuova topologia semplificata di rete FC.
La funzione di aggregazione sarà molto simile a quanto esiste nelle soluzioni Ethernet a 40 Gbps: si userà un connettore particolare (QSFP) che permetterà di ottenere 128GFCp usando 4 linee a 32GFC; il tutto compatibile anche con linee singole a 32GFC o 16GFC. In modo del tutto analogo saranno supportati i 40Gbps nelle reti FCoE.
La nuova topologia di rete sarà invece solo per gli ambienti FCoE ed è chiamata FC-BB-6. Di fatto si tratta di una tecnologia VN2VN port (Virtual Node to Virtual Node) che permette di realizzare una SAN senza più una vera e propria FC fabric: ogni porta VN2VN autoapprenderà la topologia tramite la sua VSAN, senza più bisogno di zoning. Vero che alcuni switch FC già avevano una funzione di configurazione semplificata e praticamente automatica, ma in questo caso si tratta di funzionalità native.
Per chiudere abbiamo parlato della convergenza dei protocolli e della applicabilità nel mondo reale e fondamentalmente hanno confermato quanto già visto: si utilizzerà molto la convergenza ma prevalentemente su soluzioni blade, molto meno su rack (anche per un banale problema di ruoli e responsabilità distinte tra chi deve gestire la rete e chi deve gestire la parte storage). Questo almeno nel breve periodo… Ovviamente la virtualizzazione delle reti (con il Software Defined Network) e dello storage (con il Software Defined Storage) potranno portare interessanti novità ed evoluzioni.
Vedere anche: Altri report dell'evento Powering the Cloud 2013.