Questo post è disponibile anche in: Inglese
Reading Time:
4
minutes
Con l'annuncio di vSphere 6.0 non solo si hanno avuto le nuove versioni dei prodotti della vCloud Suite, ma di conseguenza sono stati annunciate anche le relative nuove certificazioni VMware. E non si tratta solo di una nuova versione delle certificazioni esistenti, ma di un discreto cambio nella struttura nei percorsi e anche dei vari livelli.
Anche se le regole di aggiornamento delle certificazioni sono state dichiarate (e queste almeno non sono troppo dissimili dalle precedenti), rimane comunque una struttura dell'intera roadmap abbastanza diversa diversa rispetto a quella delle certificazioni basate su vSphere 5.
Con l'annuncio della beta della certificazione VMware Certified Professional 6 – Data Center Virtualization, ora l'intera roadmap inizia a prendere una qualche forma.
Version 6 Certification Roadmap
Ruolo

Licello di certificazione

Software-Defined Data Center

DTM

Data Center Virtualization

Cloud Management & Automation

Network Virtualization

Desktop & Mobility

Solution Design Architecture

VMware Certified Design Expert

VCDX6-DCV

VCDX6-CMA

VCDX6-DTM

Implementation

VMware Certified Implementation Expert

VCIX6-DCV

VCIX6-CMA

VCIX6-DTM

Administration

VMware Certified Professional

Business IT

VMware Certified Associate

VCA6-DCV

VCA6-CMA VCA6-HC

VCA6-DTM
Si notano i nuovi nomi dei percorsi, il nuovo livello VCIX, ma soprattutto il ritorno nel numero di versione (che chissà per quale strano motivo era sparito negli ultimi anni).
Al momento l'unico percorso che è completo è quello relativo alla Network Virtualization ed al prodotto NSX: del resto tutte le certificazioni erano nate già per la versione 6.x del prodotto (che funziona anche su vSphere 5.5 e solo con la 6.1.3 è diventato compatibile con vSphere 6.0).
Le certificazioni VCP6-Cloud e VCP6-Desktop in realtà già esistono, ma con nomi differenti rispetto a quelli finali. Dl'altra parte secondo le regole di upgrade queste saranno traslate sui nomi nuovi, quindi conseguire una di queste certificazioni non è tempo perso. La conversione sarà quindi del tipo:
VCP6-Cloud = VCP6-Cloud Management and Automation
VCP6-Desktop = VCP6-Desktop and Mobility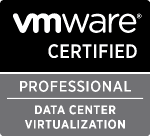 Riguardo alla certificazioni VCP6-DCV esistono finalmente maggiori dettagli inclusi quali sono gli esami che permettono il conseguimento della certificazione:
Notare che oramai (ma succedeva anche per tutti gli esami dello scorso anno) è richiesta una pre-autorizzazione per ogni esame. Va fatta sul sito VMware ed è comunque molto veloce (15 min per ottenere l'approvazione).
Al momento di tutti questi esami l'unico che dovrebbe essere disponibile è quello delta… è possibile richiedere l'autorizzazione, ma poi stranamento non vi sono ancora date e posti per sostenerlo e successivamente schedularlo come qualunque altro esame (si può solo sostenere presso un centro VUE)
La grande novità è che pare siano beta aperte al pubblico… non era mai successo (almeno non per VMware) e questa sicuramente è una grande novità (confermata, tra l'altro, anche da questo post ufficiale) che risponde anche ad una delle critiche relative proprio alla disponibilità delle beta e al criterio di selezione alle stesse.
Non è ancora chiaro invece quanto durerà il periodo della beta e quando invece vi sarà l'esame finale e per quanto tempo sarà possibile sostenere l'esame delta e aggiornare la certificazione SENZA necessità di sostenere altri corsi obbligatori.