Questo post è disponibile anche in: Inglese
Reading Time:
3
minutes
La compatibilità rimane una delle principali ragioni per aspettare prima qualunque aggiornamento, almeno per un ambiente di produzione, e lo stesso si applica ovviamente anche a vSphere 6.0. Anche se oramai buona parte dei programmi di backup è divenuta compatibile con il nuovo prodotto (vedere Compatibilità tra vSphere 6.0 e i programmi di backup – Aggiornamento), vi sono ancora alcuni problemi relativi al backup (con strumenti nativi) su questa nuova piattaforma.
Come scritto nel post VMware vSphere 6.0 – Aggiornare o non aggiornare uno dei problemi più seri era legato alla gestione del CBT di ESXi 6.0 che potrebbe compromettere i programmi di backup (anche se compatibili con vSphere 6.0): per maggiori informazioni vedere la KB 2114076 (Backing up a virtual machine with Change Block Tracking (CBT) enabled fails after upgrading to or installing VMware ESXi 6.0).
Ho usato il passato, visto che a quanto pare il problema è stato risolto.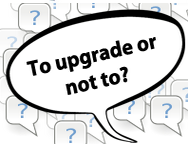 Leggendo l'ultima edizione del Veeam Community Forums Digest (un must anche per chi non dovesse usare Veeam come soluzione di backup) noto che il problema è rientrato qualche giorno fa.
VMware ha rilasciato una patch per questo problema e chi l'ha già provata ha riportato che risolve comletamente il relativo bug. Tale patch diventa quindi un must per qualunque installazione di vSphere 6.
Nella stessa mail però viene riportato un nuovo problema, per ora senza una patch risolutiva da parte di VMware, ma con un facile work-around.
Il nuovo bug delle librerie VDDK 6.0 (quelle che implementano le API per il backup nativo) causa un crash ai backup proxy con un numero elevato di schede di rete, ciascuna con IPv6 abilitato (è comunque il default di tutti i Windows recenti), quando si utilizza il backup tramite Direct SAN access mode. Il problema è in come viene rilevato l'indirizzo DNS per tutte le schede del proxy… mettendo tutto insieme e con tante schede e con indirizzi lunghi (aka IPv6) il tutto va in buffer overflow (o in qualcosa di simile) causando il malfunzionamento della libreria di VMware.
La soluzione ovvia è disabilitare l'IPv6, but Veeam sta già lavorando ad una hot fix per chi non può disabilita l'IPv6 sul proxy.
Rimane comunque un problema molto circoscritto (quanti veramente hanno un proxy con tante schede di rete?).
Se il primo problema era generico per tutti, questo secondo problema si presenta in particolare con Veeam, ma non è da escludere che possa impattare (nelle stesse condizioni) anche altri programmi di backup.