Questo post è disponibile anche in: Inglese
Con la nuova versione 6.0 della suite VMware vSphere vi è anche una nuova versione di VMware Virtual SAN (o anche chiamata VSAN) pure lei in versione 6.0 (anche se più propriamente dovremmo parlare di una versione 2.0). A quanto pare, pur essendo integrata in ESXi, la licenza sarà ancora venduta separatamente come prodotto a parte, anche se la mia speranza è di vederlo prima o poi integrato in qualche bundle di tipo Acceleration kit (come del resto era successo con VSA, inizialmente venduto a parte, ma poi incluso in vari pacchetti).
Questa nuova versione di VSAN porta con sé numerosi miglioramenti e novità e posiziona il prodotto anche per gli scenari di applicazioni business critical (il precedente era più orientato verso scenari di tipo filiali, VDI, DR, testing, … ). Estremamente semplice e veloce da implementare (come nella versione precedente), VMware Virtual SAN 6 offre una scalabilità doppia e performance migliorate di oltre 4 volte e mezzo oltre a nuove capacità di classe enterprise.
"Con oltre 1.000 clienti in 9 mesi, VMware Virtual SAN rappresenta uno storage per macchine virtuali estremamente semplice, dalle elevate prestazioni, che riduce significativamente il TCO. VMware Virtual SAN 6 offre ulteriori opportunità alle aziende attraverso le nuove capacità e le aiuta nella transizione dello storage da ambienti virtuali tradizionali al Software-Defined Data Center e ad ambienti cloud attraverso l'integrazione con OpenStack e la piattaforma di cloud management di VMware." Raghu Raghuram, Executive Vice President e General Manager, Software-Defined Data Center Division di VMware
Le principali novità di questa nuova versione si possono riassumere in questi punti:
All Flash Architecture: VMware Virtual SAN 6 offrirà una architettura two-tier all-flash nella quale i dispositivi flash sono utilizzati in maniera intelligente per il caching e la persistenza dei dati. La nuova architettura offrirà un aumento nel throughput input/output di quattro volte per nodo rispetto a VMware Virtual SAN 5.5 e una latenza inferiore al millisecondo.
Enterprise Performance: Un cluster VMware Virtual SAN a 64 nodi garantirà oltre 7 milioni di operazioni input/output per secondo (IOPS) con una scalabilità abbastanza lineare.
Enterprise Data Services: La nuova versione introduce una capacità snapshot efficiente e ad alte prestazioni aumentandone l'accuratezza fino a 32 per macchina virtuale.
Expanded Blade Support: VMware Virtual SAN 6 permetterà una allocazione intelligente delle risorse per una migliore disponibilità delle applicazioni anche in caso di guasto completo di un rack.

Come probabilmente noto, Virtual SAN è una soluzione di storage hpervisor-converged che rientra nella visione Software Defined Storage (SDS) di VMware. Rispetto ad altri prodotti SDS si differenzia per il fatto di essere integrato completamente in vSphere (e in particolare nei servizi di ESXi), di essere molto semplice ed intuitivo e di avere una gestione completamente basta su policy VM centriche.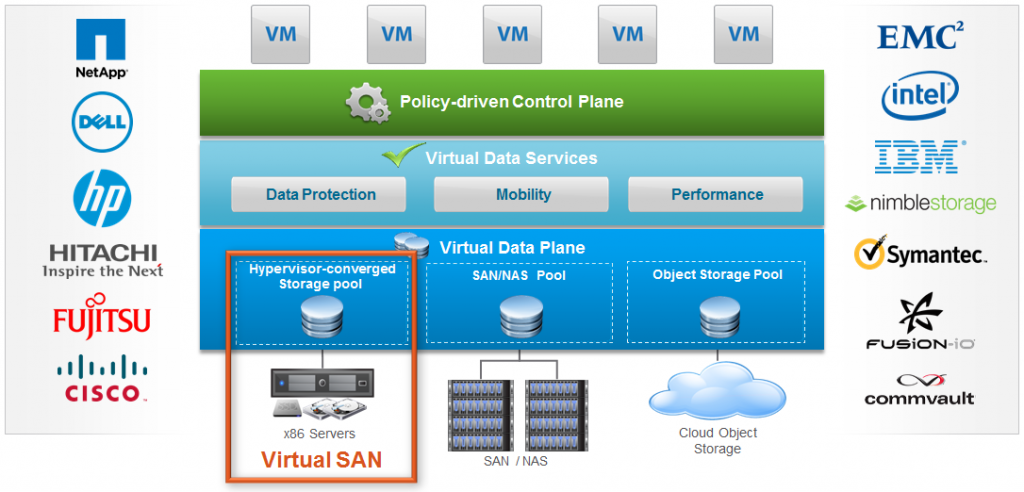 Alla pari di altre soluzioni SDS di tipo hyper-convergenti, VSAN lavora su hardware standard x86 (purché certificato per VSAN) e raggruppa risorse locali di tipo flash e dischi tradizionali trasformandoli un un unico datastore condiviso (e ovviamente con la giusta resilienza e ridondanza).
La logica è rimasta sostanzialmente quella della prima versione di VSAN: un cluster VSAN non è altro che un cluster VMware con attivata la fuzionalità VSAN (e alla pari della versione precedente, bisogna temporaneamente disattivare vSphere HA per poter avilitare VSAN). Naturalmente la nuova VSAN rispecchia i nuovi limiti dei cluster VMware nella versione 6.0 che portano il numero di nodi da 32 fino ad un massimo di 64 ESXi.
VSAN originarimante era uno storage solo di tipo ibrido (dal punto di vista della flash) poichè utilizza sia flash che dischi rotativi: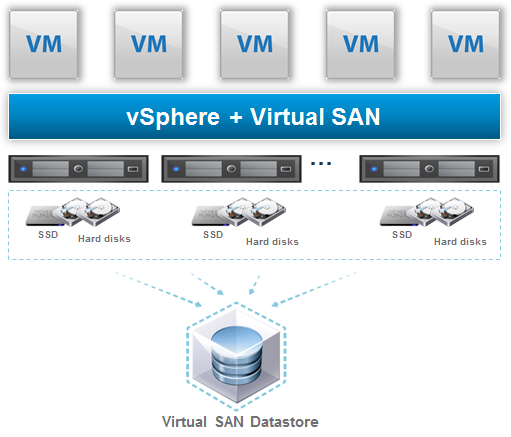 Per realizzare una Hybrid VSAN serve un pool composto da flash e spindle (e ogni host richiede almeno un SSD e un HD tradizionale). In questo modello tutte le letture e scritture finiscono nel tier di tipo flash tier, che viene suddiviso in due parto:
Non-volatile Write Buffer (30%)

Writes are acknowledged when they enter prepare stage on the flash-based devices
Reduces latency for writes

Read Cache (70%)

Cache hits reduces read latency
Cache miss – retrieve data from the magnetic devices
Ma con la Virtual SAN 6.0 è possibile avere anche uno storage di tipo full flash: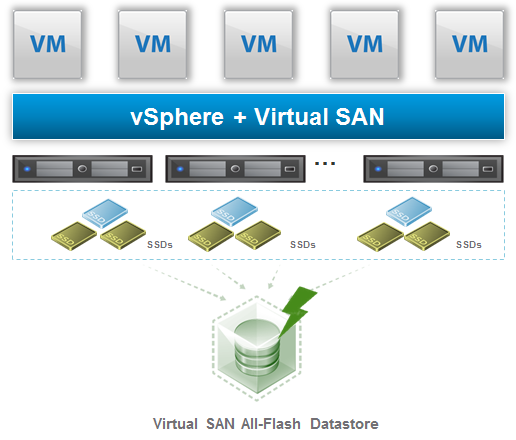 In questo scenario vi sono comunque ancora due tier diversi (da questo punto di vista è molto simile all'approccio full flash utilizzato nello storage Dell Compellent, giusto per fare un esempio):
Cache tier: is 100% write, using write-intensive, higher grade flash-based devices (usually SLC)
Capacity tier: that it's the persistent storage and can leverage lower cost read-intensive flash-based devices (usually MLC)
Ma quali sono gli scenari che richiedono uno storage full flash? A parte necessità di compliance, vi sono comunque diverse situazioni dove parte meccaniche non possono essere tollerate (si pensi ad esempio ad un carro armato), in questo caso una soluzione full flash è indispensabile.
Vi è poi il discorso legato alle prestazioni dato che uno storage full flash più garantire prestazioni consistenti con latenze nell'ordine  delle frazioni di millisecond… ma questo discorso è più di marketing che di sostanza, dato che un ottimo storage di tipo ibrido una buona architettura e con funzioni specifiche (come ad esempio il QoS) può comunque fornire prestazioni prevedibili.
Per quanto riguarda i requisiti di rete, questi rimangono sostanzialmente gli stessi della versione precedente (10 Gbps possibilmente, ma anche 1 Gbps… con ovvi impatti sulla latenza), con però la grossi novità che ora è supportato anche una configurazione di rete layer 3 (non vuol dire che sono possibili scenari geografici, se non altro per il problema della latenza).
Dal punto di vista della prestazioni e scalabilità e punti chiave si possono riassumere in:
Cluster fino a 64 nodi ESXi
Raddoppio del numero di VMs per host
Dischi VMDK fino a 62TB anche su VSAN
Fino a 32 snapshot per VM
Nuovo formato on-disk (al posto del precedente VMFS-L)
Per quanto riguarda invece la disponibilità vi sono importanti novità ed in particolare l'introduzione di un nuovo (per VSAN) concetto che è il fault domain, ossia un gruppo di host che possono fallire simultaneamente (ad esempio un rack o un enclouse di un blade). Con il concentto di fault domain VSAN garantisce una ridondanza dei dati tra diversi fault domain in modo da poter tollerare diverse casistiche di guasti:
Rack failure
Storage controller
Network failure
Power failure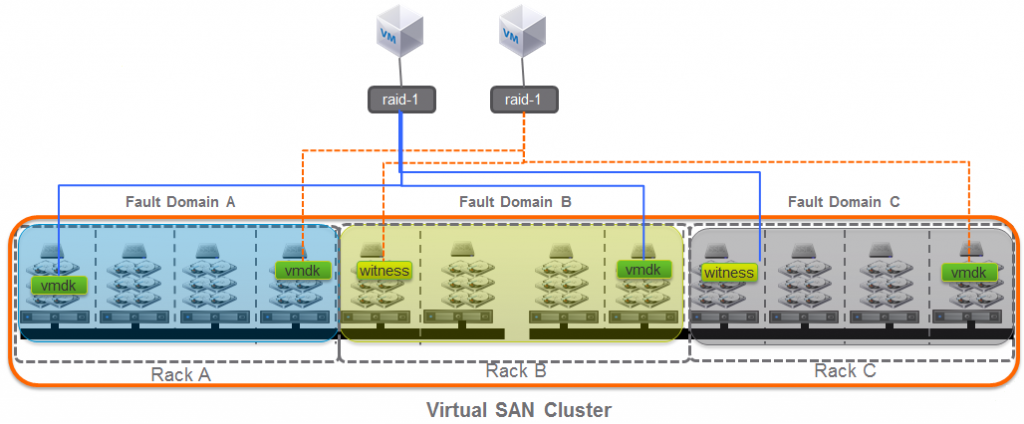 Anche il monitoraggio è stato migliorato, in particolare è stata aggiunto un servizio apposito per valutare lo stato di salute di un ambiente basato su VSAN: Virtual SAN Health Service.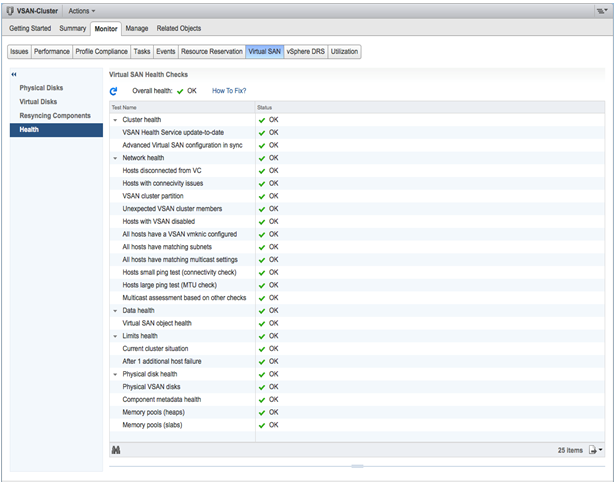 La novità riguardo al supporto dei blade (a parte il discorso dei fault domain visto in precedenza) è più di matrice di compatibilità che di sostanza. In pratica le lame normalmente sono molto limitate come storage locale, viene quindi necessario (per chi proprio vuole usare le lame in questo tipo di soluzioni) adottare DAS esterni, con cassetti di tipo JBOD.
Parlando di compatibilità, è importante ricordare che l'intera VSAN HCL (VCG) è potenzialmente diversa dall' HCL di vSphere (di solito ne è un sottoinsieme) dato che in una soluzione di storage convergente come questa le flash e il tipo di controller possono fare una grande differenza nel bene (ma anche nel male… si vedano alcuni problemi iniziali con controller senza una coda adeguata).
Ovviamente le modalità per implementare una soluzione iper-convergente basata su VSAN rimangono le stess: seguire la VCG e costruirsi la propria soluzione, oppure compare dei nodi già VSAN ready (molti vendor hardware hanno server già pre-configurati e certificati), oppure utilizzare una soluzione VMware EVO:RAIL.

Per maggiori informazioni vedere anche (in inglese):