Questo post è disponibile anche in: Inglese
DataCore ha annunciato un Universal VVols Support all'interno delle loro soluzioni di storage, completando quanto già iniziato anni fa per avere un'integrazione sempre maggiore con VMware vSphere.
Come molti sapranno, DataCore ha una soluzione di virtualizzazione dello storage (chiamata anche "storage hypervisor") che gestisce storage esistenti (anche in configurazione DAS) per fornire servizi di storage di alto livello e, ovviamente, funzioni di protezione dei dati.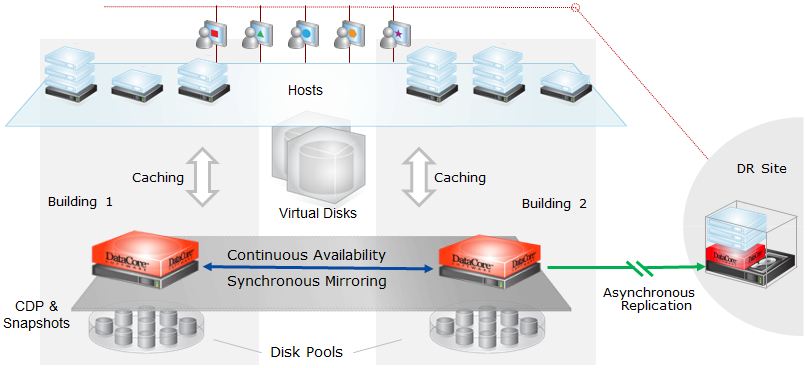 Portale il supporto ai Virtual Volumes in questi prodotto, rende, di fatto, tutti gli storage capaci di supportare (indirettamente) i VVol: semplicemente utilizzando DataCore come parte di "front-end" e di astrazione di tutti gli storage.
Utilizzando DataCore, gli amministratori VMware vSphere possono autonomamente mettere a disposizione i volumi virtuali partendo da pool di storage virtuale, specificando istantaneamente la capienza e la categoria del servizio necessario alle loro applicazioni senza dover sapere nulla del sottostante hardware di storage.
La nuova funzionalità è già disponibile nelle versioni correnti di DataCore's VMware certified SANsymphony™-V Software-Defined Storage e DataCore™ Hyper-converged Virtual SAN.
L'aspetto sicuramente interessante è la possibilità di utilizzare storage con poche funzionalità (o funzionalità limitate), ma molto capacitivi. Ad esempio, come descritto in questo caso d'uso:
"Al The Biodesign Institute le nuove funzionalità di VVol universale hanno permesso di sfruttare molte tipologie diverse di sistemi di storage che stanno dietro DataCore SANsymphony-V," ha dichiarato Scott LeComte, associate director of IT del The Biodesign Institute – Arizona State University. "Utilizziamo storage XIO per i volumi primari, che vengono duplicati in mirroring su meno costoso storage Dell MD. Questo ci ha permesso di abbassare i costi complessivi per la gestione e la messa in sicurezza di grandi set di dati su periodi di tempo estremamente lunghi. I VVol ci permettono di gestire e mettere a disposizione facilmente i volumi in un ambiente di ricerca che cambia molto rapidamente."
This post has already been read 140 times.