Questo post è disponibile anche in: Inglese
Reading Time:
5
minutes
A maggio 2017, Dell EMC ha annunciato la nuova generazione dei server PowerEdge: la 14ma generatione, la prima con il nuovo logo Dell-EMC.
Dopo meno di 3 anni dall'introduzione della Generazione 13 dei PowerEdge, la nuova Generazione 14 definisce un completo Dell EMC PowerEdge server portfolio adatto per soluzioni cloud, infrastrutturali, ma anche di analytics, calcolo e qualunque soluzione di tipo software-defined data center.
Naturalmente la nuova serie non era completa fin dall'annuncio, ma mano mano sono stati aggiunti nuovo modelli e, di fatto la serie è oramai completa.
Inoltre a giugno 2017, era stata anche annunciato l'introduzione di nuovi modelli di server con il nuovo processore AMD EPYC™; dopo alcuni anni di server PowerEdge con soli processori Intel Xeon, AMD ritorna e alla grande.
AMD EPYC è una CPU di nuova generazione, specifica per ambienti datacenter che può arrivare fino a 32 core per socket, e 64 thread (sì… l'hyper-threading ora esiste anche processori AMD), con ben 8 memory channel, fino a 16 DIMM per socket per un massimo di 2 TB di memoria per socket, e ben linee 128 PCIe-3.
Il tutto con soluzione a single socket (con prestazioni che possono renderlo paragonabile a un 2-socket di altre piattaforme) oppure a 2-socket.
Ma più interessante è l'architettura di questi processori, con una soluzione di tipo System on Chip (SoC) dove CPU, memory, I/O, Server Controller Hub, e tutta la parte di security sono implementate in un singolo package, with senza alcun bisogno di chipset esterni aggiuntivi!
Dell-EMC ha finalmente reso disponibili anche i nuovi server PowerEdge servers basati su processori AMD EPYC.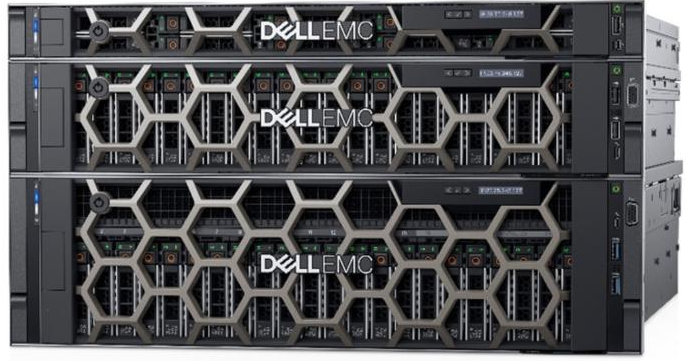 I nuovi modelli Dell-EMC di server sono i seguenti:
Come di consueto l'ultima cifra definisce il tipo di processore, 5 per identificare i processori AMD e 0 per quellui Intel, ma in questo caso le ultime due cifre vengono usate in modo leggermente diverso: "15" per identificare le soluzioni AMD ad 1 socket e "25" per quelle AMD a 2-socket.
I casi d'uso più comuni per questi nuovi modelli di server sono:
EDGE Computing Workloads – require server platforms that can not only handle the massive amounts of data created at the edge but have the performance density to manage these computations. The PowerEdge R6415 is a highly configurable, 1U single-socket server with up to 32 cores that offers the ultra-dense, scale-out computing capabilities needed for EDGE. With a support for up to 10 PCIe NVMe drives, the R6415 provides critical storage flexibility required for these workloads.
Software Defined Storage (SDS) Workloads – have to manage exploding rates of data efficiently, securely and seamlessly across pooled resources. The PowerEdge R7415 is a 2U, single-socket with 128 PCIe lanes provides the bandwidth necessary for virtualization and supporting up to 24 NVMe drives for extreme storage requirements. The R7415 is the first AMD EPYC-based server platform certified as VMware vSAN Ready Node and offers up to 20% better TCO per four-node cluster for vSAN deployments at the edge.
High-Performance Computing (HPC) Workloads – require server platforms not only with high performance but also the large bandwidth to move the results of the computations appropriately. The PowerEdge R7425 is a 2U, dual-socket has up to 64 cores and supports up to 4TB to provide the kind of accelerated computing that HPC workloads demand. It has been shown that the R7425 can deliver up to 25% superior performance for HPC workloads such as Computational Fluid Dynamics (CFD)
Sarà interessante vedere se le soluzioni AMD torneranno nel mercato datacenter e server (come è avvenuto nel passato). In fondo l'architettura x64 è nata proprio da AMD più di 10 anni (Intel spingeva su un'altra achitettura a 64, l'Itanium, che non si è imposta), come pure l'architettura NUMA dei processori moderni è di derivazione AMD.
Diventa quindi importante una sana competizione tecnologica, come pure una competizione sul prezzo, visto che fino ad oggi Intel aveva praticamente il monopolio del mercato server x64.
Tra l'altro i nuovi server sono già certificati VMware e anche VMware vSAN, anzi, in questo caso vi sono persino delle configurazioni già testate e validate.
Dell PowerEdge servers "R6415", "R7415" and "R7425" based on AMD EPYC processors are the first one which are now certified and listed in vSAN HCL.
Rimangono però il problemi pratici di implementazione. Nel caso di un'infrastruttura di virtualizzazione non è possibile mischiare server con processori Intel e AMD diversi nello stesso cluster (si perde la possibilità di migrare le VM a caldo). I nuovi server diventano quindi interessanti, più che altro, per nuovi progetti o nuove implementazioni.
Nota improtante: anche i processori AMD EPYC sono affetti dai problemi di tipo speculative execution, ma in realtà solo per la variante chiamata Spectre (GPZ Variant 2 – Branch Target Injection). Inoltre AMD ritiene che questo tipo di architettura è difficilmente vittima di possibili exploit; ma ovviamente sta rilasciando specifiche patch e soluzioni preventive.