Questo post è disponibile anche in: Inglese
Nel corso della sua lunga storia, VMware vSphere ha avuto tanti client diversi. A partire da primi client web per l'host (in ESX 2.x), per passare ai client "thick" per sistemi Windows (lo storico C# vSphere Client), fino a tornare ai client web. Ovviamente stiamo parlando dei client grafici, visto che invece la linea di comando ha sì avuto evoluzioni, ma è ben più stabile nel corso del tempo (ad esempio se guardiamo PowerCLI).
Ad oggi il client considerato "completo" è il vSphere Web Client (a partire dalla versione 5.1 le nuove funzionalità sono state attivate preferenzialmente su questo client). E dopo lungo tempo il client Windows ci ha lasciato nella versione 6.5 di vSphere (da quando nel 2016 VMware aveva annunciato che non ci sarebbe pià stato).
Purtroppo in VMware vSphere 6.5 siamo rimasti ancora con due client grafici differenti, questa volta entrambi web based: il vSphere Web Client (basato su Flash e introdotto per la prima volta in vSphere 5.0) e il nuovo client basato su HTML5 e chiamato con molta fantasia vSphere Client (per maggiori informazioni vedere questo post).
Però da agosto 2017, VMware ha annunciato che il client Flash-based vSphere Web Client sarà presto dismesso nella prossima major release di vSphere, considerandolo obsoleto e considerando anche che pure Adobe ha annunciato che Flash non sarà più supportato. A quel punto si tornerà ad avere solo il (nuovo) vSphere Client!
Rimangono comunque altri client web, ma per scopi più specifici, ad esempio VAMI per gestire la vCSA o il client web per gestire gli host direttamente.
Il nuovo vSphere Client in HTML5 è nato in origine come un Flings project ed è disponibile anche stand-alone, nel caso vogliate aggiungerlo ad un'infrastruttura basata su vSphere 6.0 (visto che in vSphere 6.5 esiste già di default).
Con l'ultimo aggiornamento vCenter Server 6.5 Update 1d siamo di fronte alla terza versione del HTML5 vSphere Client con tante funzionalità e sempre più vicino e comparabile con il vSphere Web Client.
vSphere 6.5 Update 1d è stato rilasciato a Dicembre 2017, con l'obiettivo primario di correggere alcuni bug, ma con l'occasione anche di includere l'ultima versione da Flings del vSphere Client. Notare che esiste una versione più aggiornata di vCenter 6.5 (legata ai bug dei processori) ma che però non porta aggiornamenti a vSphere Client.
Il client HTML5 supporta tanti browser diversi e su tanti comunque funziona (ed esempio funziona persino su Microsoft Edge). La lista dei browser e sistemi operativi ufficialmente supportati è la seguente:
Operating system

Browser

Windows

Microsoft Internet Explorer version 11.0.96 and later
Microsoft Edge version 38 and later
Google Chrome version 50 and later
Mozilla Firefox version 45 and later

Mac OS

Google Chrome version 50 and later
Mozilla Firefox version 45 and later
Linux non è in questa lista, ma solo perché le distribuzioni e il tipo di interfacce grafiche sono molteplici… diciamo che funziona nella maggior parte dei casi.
Più interessante è l'elenco delle funzionalità che sono state incluse in vSphere Client (per una lista completa delle funzioni supportate e non vedere questo post).
Il 27 luglio 2017, con la release vSphere version 6.5 Update 1 vi è stato il secondo aggiornamento del client e VMware ha entusiasticamente affermato che il 90% delle funzionalità del vSphere Web Client era disponibile nel nuovo client.
Però, volendo essere obiettivi, anche ad oggi, le carenze sono ancora significative, almeno per una categoria di utilizzatori di VMware vSphere. Con il client HTML5 non sono possibili (o sono limitate) le seguenti funzionalità:
Functional Area

Workflow

Unsupported Functionality in the vSphere Client

Cluster
Configuration

Overrides for VM restart priority

Content Library
Content Library Management and Configuration
Content Library
Deploy from template

Advanced deploy options
Advanced networking template customization

vCenter Global view
vCenter Server Configuration

Edit advanced settings
Key management services
vCenter High Availability
Auto Deploy

Distributed Switch
Management

Add and manage hosts (template mode)
Edit distributed port settings
Advanced features: traffic filtering
Import and export distributed switch and distributed port group
Health check
Topology view

Host Management
Host Configuration
Host Storage
Virtual Flash
 Note: Virtual Flash is deprecated in the vSphere Client
Performance Charts
Overview

View overview performance charts

Search
Advanced search

Search for VMs by compliance status

Global Views
Recent Objects view

Display recently viewed objects
Display recently created objects

Related Objects List
Actions
Search
Advanced search
Wizards/Dialogs
Inventory Tree
vApp
vApp

All edit and display settings
All workflows

VCHA
Management and Deployment
Administration
Single Sign-On

Users and groups
Configuration

VM Administration
Deployment

Deploy VM from content library wizard

VM Configuration
VM Edit Settings

Device configuration options
Adding the hardware devices: floppy drive, serial port, parallel port
SDRS rules
vApp options
Edit advanced settings
Fibre channel NPIV

VM Configuration
VM Summary

Advanced configuration portlet
vApp details portlet
Update manager compliance portlet

VM Encryption
All
VM Deployment
Deploy OVF/OVA

Advanced storage
Advanced networking
Customize template

VM Operations
Remote Console

Changing preferred console from the gear icon

VM Operations
Managed VM Operations

Notifications for operations on managed VM templates

Licensing
Licensing

Licensing views (vCenter Server/Cluster/Host)
Add new license
Licenses administration
Products administration
Assets administration
Import license keys data from license file
Per un amministratore di un'infrastruttura di virtualizzazione è abbastanza scomodo dover passare da un client ad un altro solo perché nel vSphere Client mancano tantissime funzioni di configurazione!
Ad essere onesti, per un amministratore, converrebbe impararsi un linguaggio di scripting, come ad esempio PowerCLI, e puntare su quello anziché aspettarsi una nuova interfaccia grafica più completa.
Considerando poi che alcuni prodotti di VMware, ad esempio la VSAN e NSX, sono poco utilizzabili e configurabili dal vSphere Client. In realtà, almeno NSX 6.4 finalmente può utilizzare il client HTML5.
Quindi per chi è adatto il client HTML5?
In generale per un operatore che utilizzi i servizi di vSphere prevalentemente per gestire VM o monitorare il sisteme, in nuovo client va più che bene!
Nel libro Mastering VMware vSphere 6.5, abbiamo provato ad usare il vSphere Client dove possibile, ma ci sono talmente tante funzioni non implementate, che in diversi punti siamo stati costretti a passare al vSphere Web Client.
E' comunque auspicabile un veloce passaggio al nuovo client, visto che quello Flash fa spesso capricci (spesso colpa proprio di Flash), come ad esempio queste poco simpatiche schermate di errore che compaiono dopo un po' di utilizzo: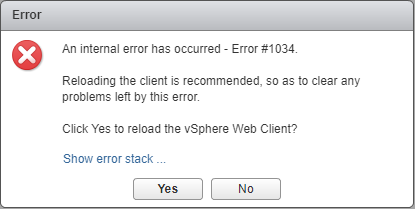 Ci sono poi dei compartamenti diversi tra i due client: ad esempio la memoria delle VM viene rappresentata in modo diverso (in un caso viene usata la memoria attiva che non è la memoria realmente utilizzata). Poi ci sono spesso problemi di refresh… ma questo purtroppo riguarda entrambi i clienti.
Inoltre il DRS ora utilizza l'Active Memory da qui la scelta di mostrare questa a livello di VM:
Questo continuo disallineamento dei client però alla lunga sta diventando frustrante e per assurdo introduce persino bug (vedasi il problema sulle vApp). Diventa auspicabile un veloce passaggio al nuovo client… senza dover aspettare la versione 7.0 di vSphere.
Ci sarebbe poi il discorso della velocità… da più parti si dice che client web sono più veloci, ma parliamone… Se consideriamo il cliente tipico italiano con pochi host, il vecchio client Windows era decisamente più veloce e avendo più menu (ma meno livelli) era anche più comodo per una serie di task ripetitivi.
C'è poi da considerare la stranezza dei look & feed dei due client HTML5: quello di vCenter (il vSphere Client) e quello degli host… Paradossalmente quello degli host c'è da più tempo e funziona anche abbastanza bene, ma l'aspetto dei due client è radicalmente differente. Non era meglio, dove possibile, incorporare le informazioni e funzioni già presenti del client host?
Per maggiori informazioni (in inglese) sui diversi client web, vedere anche la VMware KB 2147929 – vSphere Client (HTML5) and vSphere Web Client 6.5 FAQ
This post has already been read 2089 times.